Hello!
Oh how I've missed posting… I have been super busy these past few weeks trying to get all settled in back on campus. I have so much to update everyone on! I was satisfied with my performance during my first semester at Iowa, but thought I would just shoot for the stars second semester. I didn't want to regret not taking any opportunities, so naturally, I applied for the jobs I wanted to apply for, joined the groups I wished I had joined first semester, and I even took an internship position!
Class Update
I absolutely love the classes I am taking this semester! I really like how every semester is a fresh start class-wise in college. I am a Marketing major, so I am taking Macroeconomics (I ABSOLUTELY LOVE PROFESSOR JENNIFER PARKER), Stats for Business, Interpretation of Literature (I ALSO ABSOLUTELY LOVE MY TEACHER THELMA TRUJILLO!! I highly recommend taking her section). I am also enrolled in Business computing essentials, and lastly, Hawkeye Service Breaks!
Hawkeye Service Breaks is a really cool program if you haven't heard of it before! It is a 3 credit hour class that meets for about half a semester once a week, and pre-COVID, would go on a spring break trip to do community service! Because of COVID, I get to participate in three remote/local volunteer weekends! I am in the economic justice section which directly relates to my studies in Tippie!
Job Update
I am employed!!! I never thought I would want a job in college, but I had so much free time first semester that I was ready for a change. I applied and accepted a Fac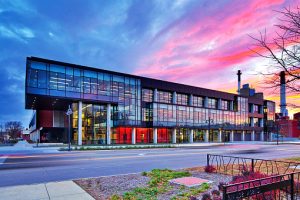 ility Attendant position at the Campus Recreation and Wellness Center! I had my first shift a few days ago and I can already tell I am going to love this job! Not to mention, the campus rec center is BEAUTIFUL!!!! I thrive in the gym setting so I am excited to spend some extra hours in the facility!
Internship Update
I was made aware of an internship position from Kyle Hughes, who is in charge of the Experience Iowa Program! He referred all ambassadors who were interested to reach out to Aly Shea, an Iowa Alumnus, who is currently a Social Media Coordinator for a nonprofit in Boulder, Colorado called Intercambio. This is a remote, unpaid internship position, but I was so excited and could not pass up the opportunity to gain knowledge from someone who had a lot of similar interests that I did. I am so excited to start working with Aly to research the nonprofit Instagram world, plan posts, and publish content for a few weeks. I am so grateful to be able to make connections with people like Aly. I have only been in the Tippie College of Business for a semester and a half, but opportunities like this will make my college experience so unforgettable!