Hello everyone!
I attended the first women's basketball game of the season Monday night against FDU. I was lucky and got court-side seats, thanks to Hawks Nest. Seeing all the plays up close was great, especially when Molly Davis made the buzzer-beater! Caitlin Clark is a phenomenal player and I can't believe I get to attend Iowa at the same time as her and watch the team play.
It was nearly full at Carver Hawkeye Arena and the energy was insane. The cheers were fun, the pep band was awesome, and we won!
Try a Carver ice cream cone when you go. Season tickets are sold out but student ones are still available. Let's continue to support all women's sports! You can catch the games on TV as well.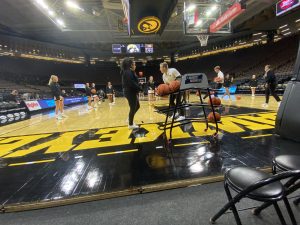 Bye for now!
-Solenn