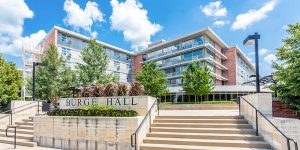 As many high school seniors, soon-to-be Hawkeyes, begin deciding what dorm they would like to live in, I am going to convince you why you should live in Burge! I might be biased, okay I'm very biased, but I have some valid points.
In the months leading up to picking a dorm room, I was convinced I wanted to live in Catlett and there was nowhere else I would even think about living. However, my roommate swayed me into living in Burge. Now being here for a whole semester, I couldn't imagine not living in Burge! So here are five reasons why Burge is the best dorm.
The rooms are huge. I live in a double, so our beds are at the high captain, and we still have enough room for two desks, a giant futon, and a refrigerator. Everything I could ever need in here can definitely fit, no doubt. There's so much space and storage for everything. The rooms are even nicely renovated
There is a sink in every room. This may seem like no big deal, but trust me, you do not want to leave your room to brush your teeth. It's also convenient for washing the few dishes I do have.
The bus stops are right out the front door. In the winter, you're not going to want to walk anywhere so having convenient access to the bus stop is SO NICE. Once you get off the bus you're home, you don't have to walk another block home after getting off.
The Clinton Street Market. This is also convenient if you don't have much time to eat. They offer a variety of meal options and you can use flex swipes or hawk dollars. It stays open until midnight so this is also a great option to grab something late at night. It's very nice to have it right downstairs.
The people. Everyone that lives here is so friendly and welcoming. I'm friends with all of my neighbors and we all have fun and get along really well. I feel like there's just a bond between people that live in Burge unlike any other residence hall haha!